Proceeds from our Jewelry Sales go to support Scholarships for our Austin area students. Jewelry is sold at all our general meetings and at Family Weekend at TAMU. In addition, you can print and mail in an order form found here.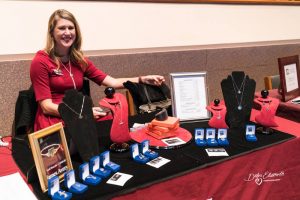 Our wonderful 2017-2018 VP Jewelry, Shileen Karnes
Made exclusively by James Avery for Austin Texas A&M Mothers' Club

James Avery Silver Bracelet- $185
James Avery Gold Bracelet–Price upon request,  **Special order only**
Campus I.D. Jewelry: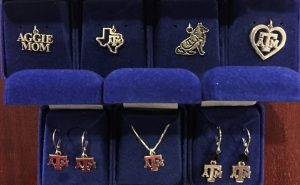 Aggie Mom Charm- $15; ATM in Texas Charm- $15; Reveille Charm- $15;
ATM in Heart Charm- $25; Lever Back ATM Earrings- $30; ATM Charm and Chain- $25;
Crystal Leaver Back Earrings- $35;  Box Chain (Not pictured)- $15
  **Sales are subject to Texas State Sales Tax and Shipping Costs**
Questions about jewelry?  Feel free to email Shileen Karnes   shileen.karnes@gmail.com
 The Aggie Moms' Boutique held during Spring Parent Weekend is an event organized and run by the Federation of Texas A&M University Mothers' Clubs.  Aggie Moms' Clubs from around the state come together at the Memorial Student Center for the annual event.  These clubs fill the room with booths showcasing the best in Aggie gifts and crafts.  It is the place to buy custom made mailboxes, ornaments, glasswear, and more.  If it can be made "Aggie", it can be found at the Aggie Moms' Boutique.
Any questions regarding this event, please visit the Federation website.