Join us for our next meeting, Tuesday, March 6 2018 at Riverplace Country Club. If you have a business you would like to promote at our meeting, please feel free to bring brochures/business cards for our "networking" table.
Coming up—-Family Weekend at TAMU April 13-15.  Watch for Boutique sign ups!  Kendra Scott Event on April 19.  Look for information soon!
Scholarship Application is now available!  Click here  Applications must be postmarked by April 21, 2018
Do you have an Aggie graduate from August 2017, December 2017 or May 2018?  If you would like them to be part of our Ags n Brags in May, or you would like them to receive their graduation gift from Austin Aggie Moms, please contact Denise Isenhour BY APRIL 21 at austinaggiemoms@aggienetwork.com.
Thanks to all the Austin Aggie Moms who contributed to a successful Singing Cadet Concert!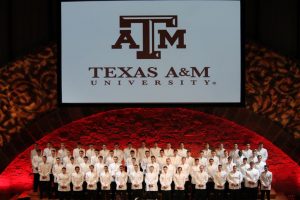 Check out our 2018 Reveille Raffle Winners— HERE  
Check out pictures of the event——-here