Due to Covid-19, we will have a Zoom meeting on April 7 at 7pm.  Watch your emails for the info!
Also, check out our Facebook pages–https://www.facebook.com/austinaggiemoms/ and https://www.facebook.com/groups/141119879805111/
For updated TAMU information, check https://www.tamu.edu/
   Scholarship application is here and is MUST BE POSTMARKED BY APRIL 3!   2020 Scholarship Application
Questions for someone?
President, Denise Isenhour   austinaggiemoms@aggienetwork.com
President Elect         AustinAMPElect@aggienetwork.com
Treasurer                   AustinAMTreasurer@aggienetwork.com
VP of Membership    AustinAMMembership@aggienetwork.com
VP Jewelry                  AustinAMJewelry@aggienetwork.com
Goody Bag Chair       AustinAMGoodyBags@aggienetwork.com
Historian                    AustinAMHistorian@aggienetwork.com
.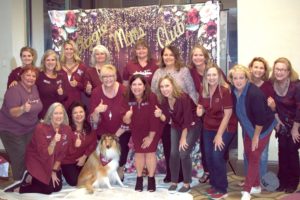 We LOVE to support our Aggie Moms!!!
Click to hear "The Spirit of Aggieland" by the Singing Cadets.