Support the Singing Cadet Raffle!
Support our Singing Cadet Concert Raffle – click here to sign up, and then bring your items to our November meeting!
Next Meeting Dates:
October 22:     Social–You should have received an Evite for this activity.
November 5:  80th Birthday Extravaganza!   7:00 pm:  Regular Meeting
NEWS:       We our so proud of our Giving for 2018-2019 Year:
Merit Scholarships $12,200
Endowment   $5000 
JJ Sanchez  Award to Squadron 11  $500  
Singing Cadets $6000  
Organizational Giving  $4000 

Residence Hall Association  $800;
Carpool   $800;
Muster Committee  $800;
Fish Camp  $800;
Veterans Resource Ctr  $800

Membership to Association for Graduates    $350
TOTAL GIVING FOR 2018-2019 =$28,050
Are you a mom of an incoming Freshmen, or Transfer student, or Blinn Team Member?  Keep checking this website for information SPECIFICALLY for you!
 Austin Aggie Moms Club Shirt Available!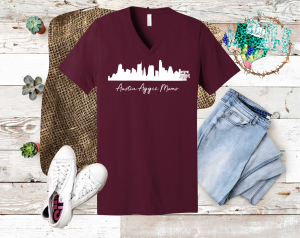 If interested, email our VP Tomi Johnson at tomi@blingitATX.com .
XS-XL cost $25 and  2XL and 3XL cost $28
.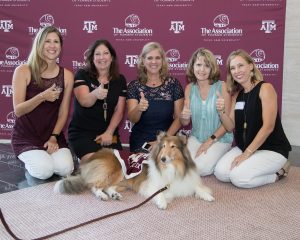 Our Generous Sponsors:


Link for Textbook Solutions is HERE
Click to hear "The Spirit of Aggieland" by the Singing Cadets.