November 30, 2018
We delivered over 100 goody bags to our Aggie Students and to some Aggie Veterans.  We helped them get psyched up to BTHO Finals!!!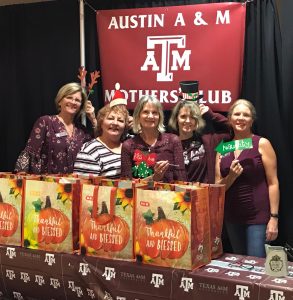 November 11, 2018 –
Our November meeting was excellent!  We learned about A&M's support services for Veterans – it was a very moving speech.  Our university is very supportive of our our veterans – Gig 'Em!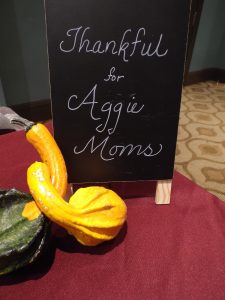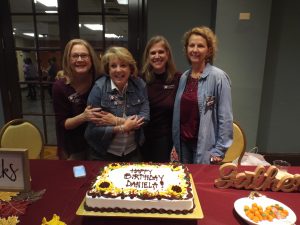 October 2, 2018

– Our October Meeting was a fun evening.  We discussed our plans to we make our January Singing Cadets fundraising a roaring success.  We learned all about getting around Tamu, and we won some prizes and celebrated Denise's birthday.  Wow!
We had a successful first meeting of the year in September.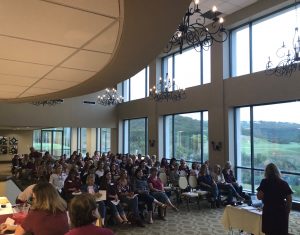 Our "Answering Questions about sending your Aggie to CStat" was a success!
At the end of March, we celebrated several of our Past Presidents at a luncheon at Riverplace Country Club.
Our November meeting was great!  Jennifer Bohac '87 from Traveling Aggies was our speaker. She discussed the fantastic 70+ trips per year we could take with the Traveling Aggies.
Several of our Aggie Moms BTHO Harvey at the Fall 2017 Federation Meeting in College Station.
 
Daniela Knight, Kelly Simmons, Sue Munns, Shileen Karnes, Denise Isenhour
We welcomed new Freshmen at our Howdy Social in June!