An Evening with Colonel Mike E. Fossum '80 USAFR (Ret.) | March 8, 2022
What an amazing event. Colonel Fossum did not disappoint. A HUGE thank you to everyone that volunteered and attended this event. Hospitality ladies Lara White, Rachel Butler, and Vanessa Jackson did a wonderful job on our centerpieces and Board Members Kathy Johnston and Tara Sims worked tirelessly to create a wonderful experience at a perfect location. We had over 200 community members in attendance and the meals from Jamie Harris, an Aggie Owned Chick Fil A, were a hit and very much appreciated by all. What a joy to be a part of bringing this treasure to Austin. I think even more people fell in love with Texas A&M after this event.
Transition Social & Toast to the 2020 Board | June 6, 2021
For more information on getting involved in the Austin Aggie Mom Board or leading a committee, contact AustinAggieMoms@aggienetwork.com.
Year-End Celebration at Flores | May 4, 2021
Holiday Socials at Jack Allen | December 1, 2021
BTHO Bama Drive Thru Event | October 3, 2020
Austin Aggie Moms enjoyed a fun morning dropping by the tailgate, getting cool loot, picking up their T-shirts, jewelry and other merchandise ordered. Thanks to everyone who planned the event and stopped by for an Aggie Howdy!
Aggie Mom Q&A |July 16, 2019
Aggie Moms came to learn from our Fish Mom team.  They learned tips for move-in, going to football games, and ways to support their Freshman Aggies.  They also heard from our speaker, Andrea James, author of the book
The Stuff I Wish I'd Known: The College Student's Guide to Succeeding in College and Being Healthy
Here are some pictures of our session:
Howdy Social | June 15, 2019
Over a hundred incoming Aggie Freshman and their families came to learn about becoming an Aggie family.  We had a great speaker from Texas A&M, Kathleen Speed, who talked to the students about transitioning from high school to college.
We also had an information fair where Aggie families got to talk to the sponsors to get more information about and support for life as an Aggie.
Tuesday February 5, 2019 | February Meeting
We had a great meeting.  Dr Jill Grimes, class of '87, taught us about anxiety and depression in college kids.  She gave us lots of great ideas to help our kids be healthy and successful.

Saturday January 12, 2019 | Corps of Cadets Concert
On Saturday January 12, we hosted our annual Corps of Cadets Concert and fundraiser.  We sold tickets, cookies and water, had a silent auction, and raffled off a number of great baskets.  This is our big fundraiser of the year, and we will use the money for scholarships.  Thanks to everyone who helped make this a successful event.  Here are some pictures from the event.  The pictures are provided to us by Debra Ellsworth, our Aggie mom photographic portrait artist (for more info on Debra, go to her website:  www.debraellsworthphotography.com
Goody Bag Delivery | November 30, 2018
We delivered over 100 goody bags to our Aggie Students and to some Aggie Veterans.  We helped them get psyched up to BTHO Finals!!!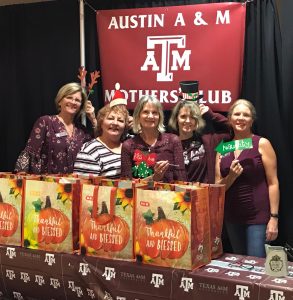 November 11, 2018 –
Our November meeting was excellent!  We learned about A&M's support services for Veterans – it was a very moving speech.  Our university is very supportive of our our veterans – Gig 'Em!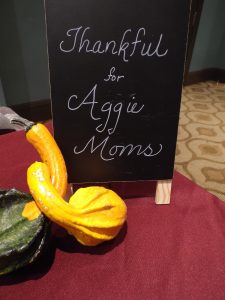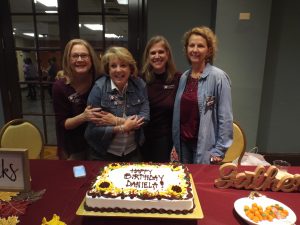 October 2, 2018

– Our October Meeting was a fun evening.  We discussed our plans to we make our January Singing Cadets fundraising a roaring success.  We learned all about getting around Tamu, and we won some prizes and celebrated Denise's birthday.  Wow!
We had a successful first meeting of the year in September.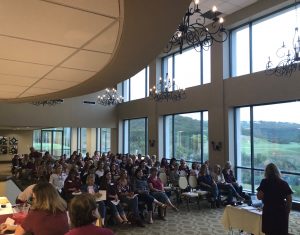 Our "Answering Questions about sending your Aggie to CStat" was a success!
At the end of March, we celebrated several of our Past Presidents at a luncheon at Riverplace Country Club.
Our November meeting was great!  Jennifer Bohac '87 from Traveling Aggies was our speaker. She discussed the fantastic 70+ trips per year we could take with the Traveling Aggies.
Several of our Aggie Moms BTHO Harvey at the Fall 2017 Federation Meeting in College Station.
 
Daniela Knight, Kelly Simmons, Sue Munns, Shileen Karnes, Denise Isenhour
We welcomed new Freshmen at our Howdy Social in June!