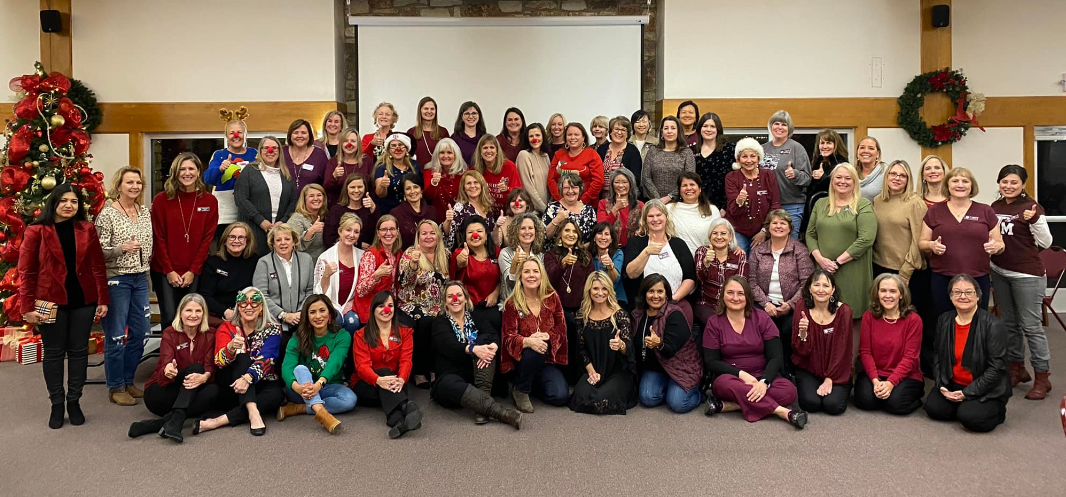 The Austin Texas A&M University Mothers' Club is one of more than 100 Aggie Moms Clubs across the country.  We are organized exclusively for charitable, educational and social purposes. "We strive by individual and united effort to contribute in every way to the welfare of the students at Texas A&M University and to cooperate with the University in maintaining a high standard of moral conduct and intellectual attainment . . ." and we make new friends and have fun in the process!
Our Goals
Our goals include raising funds and providing scholarships for the benefit of Texas A&M students, educating Aggie Moms about the many aspects of the university and providing fellowship opportunities for Aggie moms.
Scholarships and Fundraising
The Austin Texas A&M University Mothers' Club is a local 501(c)(3) with a mission and passion to provide scholarships to outstanding current Austin-area Texas A&M students. Over the past 30 years, we have awarded $125,000 in scholarships to Aggies! We have funded four endowed scholarships at $25,000 each and are over halfway with funding our fifth endowment.
Our club has donated over $100,000 to various student organizations over the years, including Singing Cadets, Fish Camp, Muster Committee, Aggieland Mariachi, Build, Veterans Resource Center and many more!
Learn more about our current scholarship recipients here. We raise funds from our Singing Cadets concert, raffles and jewelry sales to fund scholarships.
Educating Moms
Austin Aggie Moms meet once a month for fun, fellowship and food. We invite speakers from the University to give us updates on what is happening on campus, opportunities for our students and many other interesting topics. Twice a year our club offers Goody Bags that Aggie Moms can order for their students. Volunteers deliver them to College Station before finals for a special surprise.
Social Activities
Austin Aggie moms organize outings to many types of places for fun, including wineries, axe-throwing or lunch at a local Austin restaurant!