Fall 2023 Goody Bags will be available to order at our September 12 general meeting.
Spring 2023 Goody Bags a Hit!
Spring 2021 Goody Bag Changed into Celebration Package!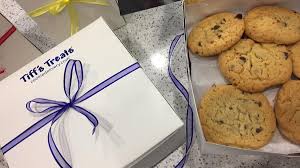 In lieu of Goody Bags, we partnered with Tiff's Treats to celebrate our student and veterans. What better way than to send some love!
Each package included:
one dozen cookies,
a pint of ice cream,
a balloon, and
packaging as well as delivery cost.
Thanks to our Goody Bag Chair Jodi Jenkins for coordinating this creative option during this year of adjustments!