Fall 2021 Goody Bag Details
Note: for Austin Texas A&M Mothers' Club Members Only

The Austin Aggie Moms offer their members the opportunity to order a morale booster before exams in the form of a bag with snacks and a restaurant gift card for their students. We call these Goody Bags and your student's bag will contain a variety of study break items, such as popcorn, chex mix, cheese/peanut butter crackers, granola bars, pretzels, chips, chocolate, coffee/tea/cocoa single packs, candy, nuts, gum, school supplies, and other fun items.
Order Deadline: October 25, 2021
Order form and check must be received no later than Monday, October 25
Delivery Date: December 3, 2021
Download Order Form
Download PDF for printing and handwriting your special message
Spring 2021 Goody Bag Changed into Celebration Package!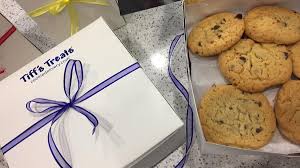 In lieu of Goody Bags, we partnered with Tiff's Treats to celebrate our student and veterans. What better way than to send some love!
Each package included:
one dozen cookies,
a pint of ice cream,
a balloon, and
packaging as well as delivery cost.
Thanks to our Goody Bag Chair Jodi Jenkins for coordinating this creative option during this year of adjustments!
Special Thanks to Our Fall 2020 Goody Bag Sponsor!