April 2,  2022|Riverbend Church
Ticket Sales
Enjoy an evening of The Voice of Aggieland
6:00 pm Reception | 7:00 pm Concert
Our event also includes an exciting raffle for the Bui Family Aggie Ring, valued at up to $1,000, and a sensational silent auction.
All tickets previously purchased for the event on January 15 will be honored.
Direct questions to AustinAMVPSingingCadets@aggienetwork.com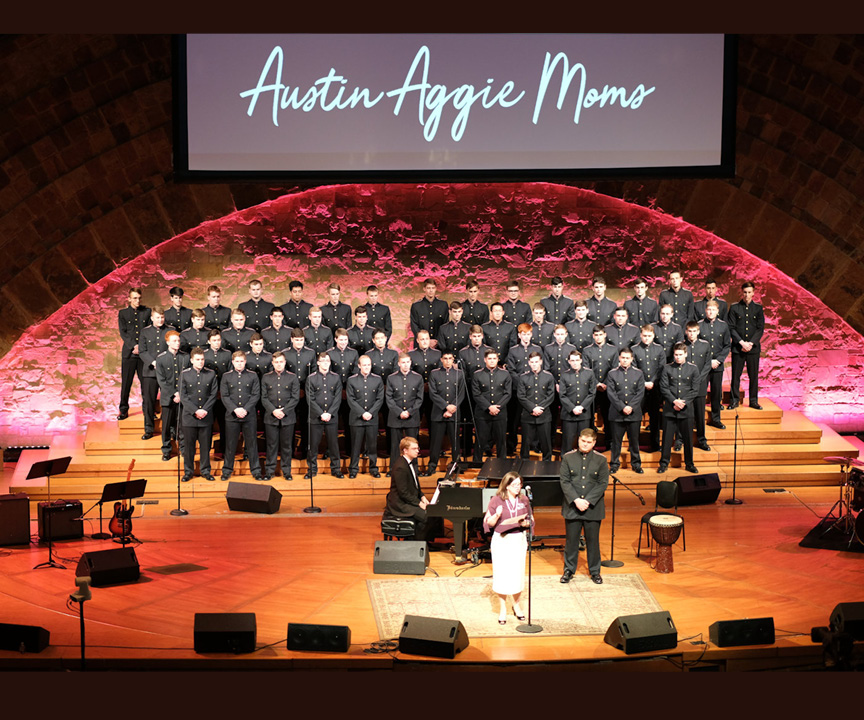 Internationally known as The Voice of Aggieland, the Grammy Award-winning Singing Cadets are Texas A&M University's premier men's chorus.  They are one of the oldest collegiate singing organizations in the world and one of the most treasured Aggie traditions.
Austin Aggie Moms will host our annual event on Saturday, April 22, with the Singing Cadets Concert starting at 6:00 pm with a reception and the concert at 7:00 pm.
More About the Singing Cadets
Besides traveling throughout the state of Texas performing an average of 65 concerts per year, the Singing Cadets have also spread The Spirit of Aggieland around the globe. The group performs internationally (every three years): Australia in 2004, South America in 2007, South Africa in 2010, China in  2013, Northern Europe in 2016, and Greece in 2019.
Performing for distinguished and foreign dignitaries is also standard fare for the Singing Cadets, including current and former US Presidents. They have held concerts in places such as Carnegie Hall, the Kennedy Centre, and St Paul's Cathedral.
Hosting the Singing Cadets Concert is a tradition for Austin Aggie Moms for more than 30 years.  We are proud to say that because of the great Aggie Spirit in the Austin area, this is the only place that is part of their tour every year! Our annual event makes it possible to provide scholarships to outstanding Texas A&M students from the Austin area.
Our merit scholarships award thousands of tuition dollars to recipients each year, and the club has funded three Texas A&M Foundation endowed scholarships: The Opportunity Award, The Transfer Student Scholarship, and the Southerland Aggie Leader Scholarship.  A fourth endowment began in 2018 – a scholarship for Veteran Students.
Sponsorships of the Singing Cadets Concert are always welcomed and more details and contact information may be found HERE.
Past Photos