Calling all Aggie Moms!  We could use your help in collecting restaurant gift cards for our Reveille Raffle.   PLEASE bring cards to the November meeting.  Thanks!!
If you plan to ask a business for an "in-kind" donation, here is the information packet you can print for them.  The In Kind Donation form should be filled out by YOU and returned to Daniela Knight or Kelly Simmons.
Singing Cadet Sponsorship Packet is HERE
2018 Reveille Raffle Items So Far…..
Aggie Mom Bracelet and Aggie Mom Print
Reveille Bluebonnet print 
Aggie Mom Bling Boots
Century Tree Seedling
Austin Fun Basket IPic movie passes for 2 and $50 giftcard, haircut at Catena and Co, Family package at High Five Bowling, Downtown Condo for 1 night, Zoom teeth whitening, 2 person Austin Food tour
All Things Sports Basket  Lost Creek Country Club, TexAgs Subscription 
Aggie Ring
Wine Lovers  wine pourer, TAMU coasters, Messina Hof Winery tour and tasting for 4 guests, Aggie football helmet wine stopper, 2 Aggie painted glasses, Wine barrel tray, cheese plate
Restaurant Heaven  Gift cards for College Station favorites
Restaurant Heaven  Gift cards for Austin favorites
Aggie Tailgate  tailgate towel, blanket, TexAgs Subscription, wire basket for grill, Aggie relish tray, BBQ spatula, plastic container set, folding tailgate chair, Yeti cooler, Washers game , set of maroon plastic cups/bowls/plates
Aggie Mom  necklace, Sweet Nails GC, Albert hair design GC, Aggie bracelet, maroon earrings, Travel Bag for cosmetics, Hullabaloo Gypsy Kitchen Aid Mixer, Aggie earrings, TAMU picture frame, Senior Portrait session in Austin, Football game clear tote,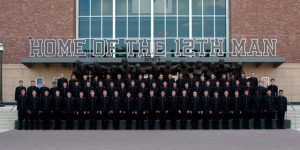 CONCERT DATE—JANUARY 13, 2018
Internationally known as the "Voice of Aggieland", the Grammy Award Winning Singing Cadets are Texas A&M University's premier men's chorus.
Besides touring throughout the state of Texas performing an average of 65 concerts per year, the Singing Cadets have also spread the Spirit of Aggieland around the globe. They have performed for every living president as well as other distinguished individuals and many foreign dignitaries. They have held concerts in places such as Carnegie Hall, the Kennedy Center, and Saint Paul's Cathedral. Austin, Texas is the only city they include in their tour every year.
This event makes it possible for the Austin Texas A&M University Mothers' Club to provide scholarships to outstanding Texas A&M students from the Austin area. Our Merit Scholarships award thousands of tuition dollars to recipients each year and our club has funded two Texas A&M Foundation Endowed scholarships; the Opportunity Award and the Southerland Aggie Leader.