There are many ways to support your Austin Texas A&M Mothers' Club, from making direct donations and merchandise purchases, to participating in our largest fundraiser and selecting us as your charity of choice for AmazonSmile and Randalls Good Neighbor program. Your generosity allows us to give back to our local student Aggies. Thanks for taking the time to participate!
One-Time Gift
During our membership drive, you have an opportunity to make a one-time gift at different levels.
Gig 'em $50  |   Whoop $75   |   12th Man $100   |   Reveille $250+
If you missed giving during the drive, we accept checks throughout the year. Please make your check payable to Austin Texas A&M Mother's Club and mail to: Austin Aggie Mom's Club, PO Box 5046, Austin, TX 78763.
Matching Gifts
Your gift to Austin Aggie Moms may have an even greater impact if your employer offers a matching gift program. Contact your company's representative to see if your employer matches charitable donations. Please let us know how we can help by emailing us today at austinaggiemoms@aggienetwork.com.
Scholarship Giving
Our merit scholarships award thousands of tuition dollars to recipients each year in addition to funding three Texas A&M Foundation Endowment Scholarships: The Opportunity Award, The Southland Aggie Leader Scholarship Award, and the Transfer Student Scholarship Award. We started our fourth endowment in 2018: a scholarship for an Austin Aggie Veteran.
Recipients of the scholarships are Austin's sons and daughters who will return to be neighbors, business owners or employees. Providing funds for tuition is an important part of giving back and helping students further their education. To learn more about the various donor levels, please click here.
Purchase Club Merchandise
Purchases of our James Avery jewelry and other merchandise is another terrific way to help Austin Aggie Moms Club raise important dollars. We also participate in Federation Boutique, an annual event that provides an opportunity to purchase merchandise from all Aggie Mom Clubs that participate. In 2020, Boutique took on a virtual component. Check out our Virtual Boutique!
AmazonSmile
AmazonSmile Foundation will donate 0.5% of the purchase price of eligible Amazon products to the charitable organization of your choice. Sign up by going to  https://smile.amazon.com and designate the Federation of Texas A&M University Mothers Club – Austin, Texas – as your charity. Every time you make a purchase on Amazon by entering the site through https://smile.amazon.com, Austin Aggies Moms' Club benefits. Amazon Prime accounts are also honored on AmazonSmile!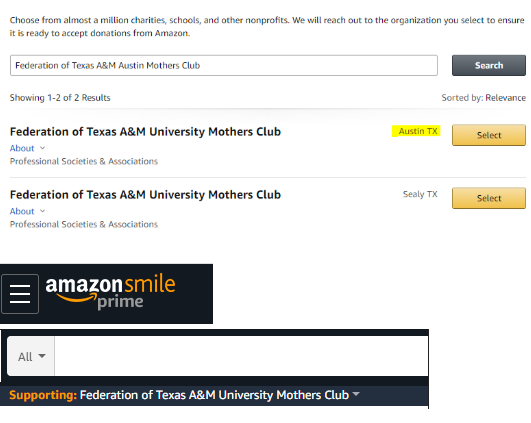 Randalls Good Neighbor Program
Randalls offers customers a way to direct 1% of purchases to participating non-profit organizations. Link your Loyalty Account to Austin Aggie Mothers' Club account #7637 and remember to scan your card after each purchase.